UNITED STATES DISTRICT COURT
NORTHERN DISTRICT OF TEXAS
- News Release -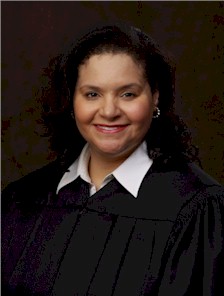 DALLAS, TX – On September 18, 2019, Ada Elene Brown was sworn in by District Judge Ed Kinkeade to serve as United States District Judge for the Northern District of Texas. A formal investiture ceremony for Judge Brown will be held at a later date.
Judge Brown brings a wide range of criminal and civil law experience from both sides of the bench. She has most recently served for six years as a Justice on the Court of Appeals for the Fifth District of Texas in Dallas, where she handled all manner of appeals from Texas trial courts. Her tenure as an appellate judge was informed by her previous work as a trial judge in Dallas County Criminal Court
Number 1, by her civil litigation experience at McKool Smith, P.C., and by her years as an Assistant District Attorney and as a Family Violence Advocate for the Dallas County District Attorney's Office. Judge Brown also held a teaching post for three years at Southern Methodist University Dedman School of Law, where she was an adjunct professor of trial advocacy.
A dedicated public servant, Judge Brown received the Gubernatorial Yellow Rose of Texas Award in 2013 for significant contributions to the community. She has served as Commissioner for the Texas Commission on Law Enforcement Officer Standards and Education and as Commissioner for the Texas Department of Public Safety. She was named a Texas Monthly Magazine Super Lawyers Rising Star in 2005, 2012, and 2013.
Judge Brown is a faculty member for the National Institute for Trial Advocacy and a member of the SCRIBES American Society of Legal Writers. She is a member of the Dallas Bar Association, the Dallas Bar Foundation, and the Dallas Women Lawyers Association, and the Collin County Women Lawyers Association. She belongs to the JL Turner Legal Association, the National Bar Association, the American Bar Association, and the Federalist Society. Judge Brown is a Master of the Bench in the William "Mac" Taylor American Inn of Court, a member of the Junior League of Dallas, and a member of Mensa. Judge Brown speaks French and Spanish and enjoys reading and writing about legal issues. She is a graduate of Spelman College and Emory University School of Law, where she was a Presidential Scholar. Judge Brown is a tribal member of the Choctaw Nation of Oklahoma and a member of the Daughters of the American Revolution - Elizabeth Gordon Bradley Chapter. During her tenure on the Dallas Court of Appeals, Judge Brown was one of two African-American appellate jurists in the State of Texas. She is now the first African-American woman to serve as a district judge in the Northern District of Texas.