UNITED STATES DISTRICT COURT
NORTHERN DISTRICT OF TEXAS
- News Release -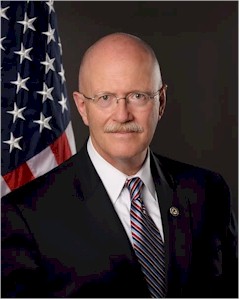 DALLAS, TX – On Tuesday, October 1, 2019, John R. Parker was sworn in by Chief Judge Barbara M. G. Lynn to serve as a United States Magistrate Judge for the United States District Court, Northern District of Texas at the Abilene and San Angelo divisions.   
Judge Parker served as Deputy General Counsel for the Executive Office for United States Attorney's Office in Washington, D.C. beginning in May 2018, where he provided legal advice and ethics guidance to the nation's 93 United States Attorneys, their staffs, and their Executive Office in Washington.  
Prior to that, he served as United States Attorney in the Northern District of Texas for three years (acting and interim) pending the presidential appointment and Senate confirmation of a new United States Attorney.  As the chief federal law enforcement officer in the district, Judge Parker was responsible for all federal criminal prosecutions and civil litigation involving the United States in an area covering almost 100,000 square miles and a population of over 8 million.  
Prior to his appointment as U.S. Attorney, Judge Parker served three years as First Assistant U.S. Attorney.  Prior to that, he served ten years as the Chief of the Civil Division during which time he chaired the Civil Chiefs' Working Group, a subcommittee of the Attorney General's Advisory Committee, which provided advice and guidance in the development and coordination of legal policies and procedures that affected all civil litigation involving the United States nationwide.  Judge Parker started his career with the Department of Justice as an Assistant U.S. Attorney in Lubbock where he served from 1999 to 2002.
Prior to joining the U.S. Attorney's Office, Judge Parker was in private practice for six years with the Lubbock law firm of Crenshaw, Dupree & Milam, L.L.P.
Judge Parker received his BA and MBA degrees from the University of Dallas, which recognized him earlier this year with its Distinguished Alumnus Award for his contributions to his profession and community.  He received his JD degree from Texas Tech University School of Law.
Judge Parker has been married to Jeanne, a public school educator, for 36 years, and they have four children and four grandchildren.