2019 Northern District of Texas Summer Teachers Institute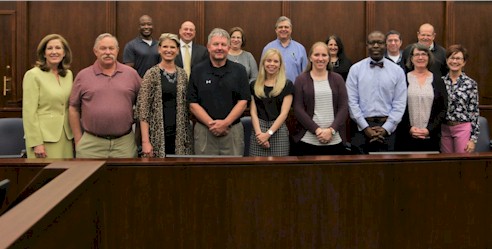 The Northern District of Texas hosted its inaugural Summer Teachers Institute June 24-26 in Dallas. High school teachers from around the district, including the Amarillo and Lubbock areas, participated in a two-and-a-half-day program designed to promote a deeper understanding of the history and structure of the rule of law, the jurisdiction and limited powers of federal courts, federal civil and criminal law, the differences between state and federal courts, and the operations of federal courts. The content was delivered through faculty presentations and panel discussions with federal and state judges and other legal experts. The teachers also spent time in the courtroom observing live court proceedings, and they completed a courtroom simulation for students titled "Civil Discourse and Difficult Decisions." This national initiative of the federal courts brings high school and college students into federal courthouses and provides a realistic simulation that showcases jury deliberations in which all students and learning styles participate in civil discourse. Teachers left the Summer Teachers Institute with the tools they need to perform the simulation with their students at a local courthouse in their area or in the classroom with invited volunteers from the legal community.
Information about the 2020 Summers Teachers Institute will be posted in late Fall 2019.