UNITED STATES DISTRICT COURT
NORTHERN DISTRICT OF TEXAS
- News Release -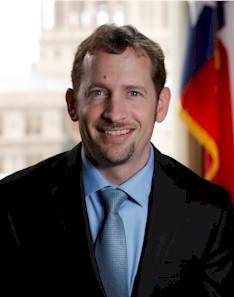 DALLAS, TX – On August 13, 2019, Brantley David Starr was sworn in by Circuit Judge Don Willett to serve as United States District Judge for the Northern District of Texas. A formal investiture ceremony for Judge Starr will be held at a later date.
Judge Starr received a Bachelor of Arts degree summa cum laude from Abilene Christian University in 2001, and a Doctor of Jurisprudence degree from the University of Texas School of Law in 2004.
Judge Starr has experience as an author, speaker, and litigator on contemporary issues of legal and political importance. Since 2016, he has served as the Deputy First Assistant Attorney General in the Office of the Attorney General of Texas. In that capacity, he oversaw the civil, appellate, and criminal litigation divisions, as well as the law enforcement division. Previously, he worked as an Assistant Attorney General upon his graduation from law school, and he also worked as a Fellow and Assistant Solicitor General for two years in the Office of the Solicitor General of Texas. Judge Starr served twice at the Texas Supreme Court, first as law clerk to then-Justice Don Willett and then as a staff attorney to Justice Eva Guzman. He spent three years in private practice as an associate with King & Spalding, LLP, handling complex commercial litigation and appellate matters.  
Judge Starr is a long-time board member of the Texas Review of Law & Politics as well as the Austin Chapter of the Federalist Society for Law and Public Policy Studies. He also served for six years on the Alumni Advisory Board for Abilene Christian University.
Judge Starr and his wife of 15 years, Jana, have three children.