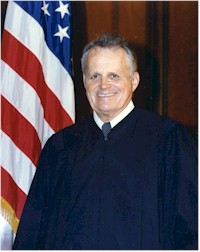 This week, we remember Judge David Owen Belew (1920-2001) of Fort Worth who served in the 90th Infantry Division of the United States Army from 1942 to 1946, rising to the rank of Captain. He was one of the first soldiers to land on Utah Beach during the Normandy invasion on June 6, 1944. Judge Belew was wounded at least three times during World War II, returning to combat after recovering each time. For his heroism, he received the Silver Star, three Purple Hearts, and five Battle Stars.
Judge Belew was born March 27, 1920, in Fort Worth, Texas. He died November 21, 2001.  
He attended Texas Christian University and graduated from the University of Texas at Austin, where he received his B.A. degree in 1946, and the University of Texas School of Law, where he received his L.L.B. degree in 1948.
Judge Belew was appointed United States District Judge for the Northern District of Texas on April 26, 1979, by President Jimmy Carter and entered duty May 4, 1979. He presided over cases in Fort Worth. He assumed senior status on May 7, 1990.
Judge Belew served as Assistant U.S. Attorney, Northern District of Texas, Fort Worth Division from 1949 to 1952. He was a partner with the law firm of Cantey, Hanger from 1953 to 1979. He was a member of the Fort Worth Tarrant County Bar Association, the Federal Bar Association, the American Bar Association, and the State Bar of Texas.
Judge Belew received the Distinguished Alumni Award from Texas Christian University and the Distinguished Alumni Award by Fort Worth Independent School District in 1985 and the Kappa Sigma Tau Man of the Year Award, Tau Chapter, University of Texas in 1988.
We also remember the service of our other former judges. They are:
Eldon Brooks Mahon
U.S. Army Air Corps, 1942-1945

William McLaughlin Taylor
U.S. Marine Corps Reserve, 1944-1945

Joe Ewing Estes
U.S. Naval Reserve, 1942-1945
Robert William Porter
U.S. Navy, 1944-1946

Halbert Owen Woodward
U.S. Navy, 1942-1945

Harold Barefoot Sanders
U.S. Navel Reserve, 1943-1946